กรอกอีเมลสมัครรับข่าวสาร (Newsletter)
Flip X series
FLIP-X Series
SINGLE-AXIS ROBOTS
YAMAHA single-axis robot more compleate line-up than ever!!
From the very compact size to extra long stroke.
Flip X Feature
Point 1
Uses a 4-row 2-point groove guide rail for superb durability!
Note 1
The Flip-X uses 4-row circular arc groove 2-point contact guides having minimal differential ball slip. Compared to 2-line gothic arch groove 4-point contact guides, the TRANSERVO has a structure with minimal differential slip of the balls and maintains good rolling action even under heavy momentum load or when the installation surface accuracy is poor. It is also resistant to breakdown such as fromabnormal wear.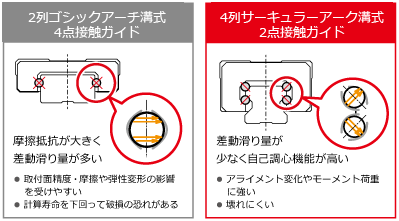 ●F/N/B typeNote 2

The F type, N type and B type layout utilizes 2 guide rails in a high-strength extruded aluminum frame. Note 2 Each rail has 2 bearing units per rail so there are a total of 4 bearing units each capable of supporting a heavy load. Large moment loads are mainly converted into an upward/ downward force so that only a very slight momentum is applied to each bearing unit. The unit also employs 4-row circular arc groove 2-point contact guides whose structure is extremely resistant to breakage and that yield a satisfactory rolling action when a large momentum load is applied.
●F8 series

The F8 series utilizes a newly developed module guide whose cross sectional area has been drastically reduced (70% compared to F10).The rail extends fully across the frame for a compact and high-strength structure. This series of course uses the 4-row circular arc groove 2-point contact guide.

Note 1. Exclude T4 / T5 Note 2. Exclude F8 series / F10 / B10
Point 2
Environmentally rugged resolver
The position detector is a resolver. The resolver has a simple yet strong structure using not electronic components or elements and so has great features such as being extremely tough in harsh environments as well as a low breakdown rate. The resolver structure has none of the detection problems that occur in other detectors such as optical encoders whose electronic components breakdown or suffer from moisture or oil that sticks to the disk. Moreover, mechanical specifications for both absolute and incremental specifications are common to all controllers so one can switch to either absolute or incremental specifications just by setting a parameter.
Also even if the absolute battery is completely worn down, the FLIP-X can operate on incremental specifications so in the unlikely event of trouble one can feel secure knowing that there will be no need to stop the production line. The backup circuit has been completely renovated and now has a backup period extending to 1 year.
Point 3
Direct coupling structure Streamlined maintenance tasks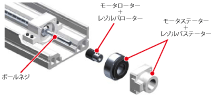 The FLIP-X utilizes a structure where the motor is built directly into the end of the ball screw axis. This structure helps achieve a smaller overall length, better servo rigidity, and lower cost. Even though it uses a built-in structure, components such as the motor and ball screw can be replaced individually so maintenance tasks are smooth and simple.
Point 4

Also supports custom specifications.

Various custom specifications, such as double slider and wide slider are also supported.

Point 5

The ideal controller to match your application!

Besides operation by robot programs and pulse train control, this new controller lineup includes positioners that operate by specifying a point No. These also support multi-spec operation where 1 controller unit operates multiple robots. Select the optimal controller to match your application.